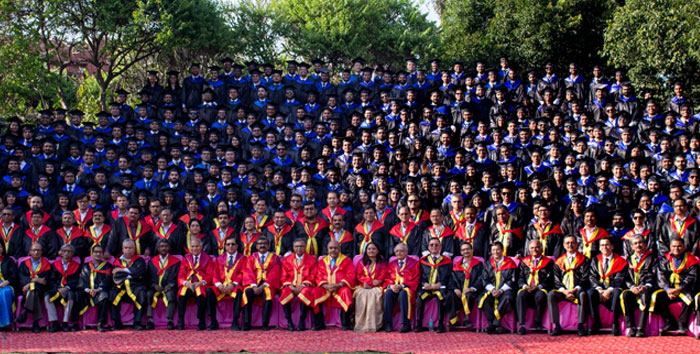 Launched in 2000-01, the Fellow Program in Management (FPM) is a doctoral level program of the Indian Institute of Management Lucknow. The program offers a unique opportunity to those who wish to hone their research talents and develop teaching skills.
The program is designed to produce high-quality academicians, researchers, and management thinkers by providing an opportunity for interdisciplinary education and research in management. The high academically charged environment of the institute helps scholar to develop and sharpen their intellect. The unique pedagogy and program structure of the FPM curriculum provide an enriching environment for personal and professional growth.
The doctoral program aims to admit individuals with an exceptional academic background, high motivation, discipline, and potential to become excellent researchers at international level. Research scholars are expected to join from diverse disciplines ranging from social sciences and humanities to physical sciences and engineering.
Through the rigorous academic program, the scholar becomes part of one of the nine research areas through the acquisition of basic theoretical knowledge and practical aspects of the area. Such activity allows close interaction with faculty members, who provide the intellectual stimulation and help develop the scholar's research interests and professional goals.

The candidates for the programme must have one of the following qualifications obtained from any of the universities incorporated by an act of the central or state legislature in India or other educational institutions established by an act of parliament or declared to be deemed as a university under section 3 of UGC Act, 1956, or possess an equivalent qualification recognized by the Ministry of HRD, Government of India, or an equivalent qualification from an institution approved by AICTE.
A Masters degree or its equivalent in any discipline with minimum 55% aggregate marks OR A Bachelors Degree in Engineering with 60% marks or equivalent grade point average, OR Any professional qualifications such as CA, ICWA and CS with a minimum 55% aggregate marks.
In addition, all the candidates must have secured a minimum of 55 % marks in all their public examinations starting with the secondary level. Work experience in industry or academics, though not mandatory, will be given due credit in the selection process.
During first year of the programme the scholars acquire knowledge of the discipline and functional areas of management and general management. The FPM scholars, irrespective of their area of specialization, take a compulsory set of courses in the first year. At the end of the first year, the scholars undergo a summer placement/summer research assignment under the advice/guidance of their Academic Advisor.
The FPM scholars who already hold a one/two/three year full-time classroom based PGDM from any of the IIMs/WMP of IIM Lucknow with a minimum CGPA of 6 on a 10 point scale or an equivalent 3.0 in 4.0 point scale and corresponding letter grade `B' would be exempted from the first year course work including the summer work and would be admitted directly to II year (herby called 'exempt scholars').
However, sentient area may recommend additional first year courses for FPM candidates in the exempted category if area members feel that the candidate(s) requires additional inputs in a core discipline.
During second year of the programme the scholars acquire in-depth knowledge of the area of specialization and related fields. In addition, scholars take the FPM compulsory courses, which are specially designed to provide teaching and research skills, and to develop integrated learning. During the second year of the programme, the scholars have to choose a dissertation topic to work on which may subsequently lead them to formulate their thesis proposal.
After the completion of first year of coursework, scholars have to undergo a two month summer internship which consists of either a guided summer research at the campus under an academic advisor or an external internship relevant to the research domain if deemed necessary in consultation with the academic advisor.
Scholars will have to do a compulsory Dissertation (2 Credits). Dissertation Advisor of the scholar in consultation with the FPM Office will schedule the dissertation presentation. The course work will end with the common comprehensive exam as suggested earlier. The scholar will follow the thesis work model as suggested for regular scholars after the completion of the course work.
On completion of the second year course work which includes dissertation work, the scholars take the comprehensive examination. The comprehensive examination at the end of the 2nd year, tests whether the scholar has obtained a satisfactory level of knowledge in her/his field of specialization and whether s/he has satisfactorily integrated the various courses taken by her/him in the area.
After passing the comprehensive examination, the candidate enters the thesis writing stage. The candidate first develops a thesis proposal, for which she/he identifies a research topic, identifies the members of the Thesis Advisory Committee (TAC), gives a seminar on the thesis proposal to the IIML academic community, and gets the thesis proposal approved by the TAC.
On approval of the thesis proposal, the candidate works closely with the TAC on her/his thesis work. On completion of the thesis work, the candidate submits the thesis and defends the same. A defense presents evidence for a thesis.
All resident Indian scholars admitted to the programme are given fellowship allowance up to four and a half years.
Scholars are provided with a fellowship stipend of Rs. 35,000 per month during I and II year. The stipend will continue until the scholar's successful clearance of Comprehensive Exam at the end of the second year.
For the rest of the period of the programme (i.e. III year onwards) the stipend of Rs. 40,000 per month will be provided after the successful completion of comprehensive examination in III year.
All resident Indian scholars admitted to the programme are given contingency allowance up to four and a half years.
A contingency grant of Rs. 10,000 per annum in I and II year, and Rs. 15,000 per annum during III and IV year of the programme. This grant will be available for purchase of books, stationery, computer hardware/softwares etc.
A one-time computer purchase grant of Rs. 50,000, which may be availed before the end of course work.
A total combined travel grant/conference registration grant amount of Rs. 1,40,000/- (i) to attend one international conference after submitting the thesis proposal, (ii) to attend a maximum of one domestic conference each in III and IV year, and an additional travel grant of Rs. 10,000/- in III or IV year to attend a domestic Doctoral Consortium or the proposed annual inter-IIM Doctoral Consortium/Doctoral consortia organized by IIMs/IISc/IGIDR.
Reimbursement of annual membership fee (scholar/ student rates) of only one national and only one international professional society during III and IV year.
Reimbursement of travel/boarding/lodging and local conveyance expenses for case-writing and field based research during III and IV year, subject to a maximum of Rs. 50,000.
The Institute also provides certain additional facilities for married FPM scholars whose families are residing on campus. This includes reimbursement of family health insurance premium. The combined health insurance cover of Rs. 100,000 for the candidate, her/his spouse and two children is being offered from the Institute. The premium payable for Rs. 100,000 cover is reimbursed.
In addition to these, they are exempted from fees, provided with free hostel accommodation. Campus hostel facility is available for stay of married scholars with their immediate family (spouse and children).
1st YEAR
Sl. No.
Doctoral Scholar's Name
Area

1

JAY KUMAR THAKUR

ABM

2

AMBRISH PANDEY

ABM

3

JYOTI KUMARI

BE

4

PRANAV KISHORE

DS

5

VIBHAV TRIPATHI

F&A

6

AARTI

F&A

7

RITUPARN BAHUKHANDI

F&A

8

SHREYA

F&A

9

POOJA TIWARI

HRM

10

NEHA ADWANI

HRM

11

PRIYANKA SRIVASTAVA

IT&S

12

TANISHQA SRIVASTAVA

MM

13

ASHUTOSH KUMAR JHA

MM

14

SOURAV KUMAR SAMANTA

MM

15

VIVEK SIVARAJAN

MM

16

RAISHUNG MARVIN R

MM

17

DIGVIJAY SAMIR

OM

18

NAYYER KHAN

SM

19

AKSHATA AGARWAL

HRM

2nd YEAR
Sl. No.
Doctoral Scholar's Name
Area

1

HEMANGEE DAS

ABM

2

RISHAB CHAUHAN

COMMU.

3

NITHESH ARVIND S.A.

DS

4

DEBAYAN CHAKRABORTY

F&A

5

GOWTHAM C

F&A

6

HIMANSHU SINGHAL

F&A

7

VIDYA MAHADEVAN

F&A

8

VIPUL KUMAR GARG

F&A

9

SWETA GUPTA

HRM

10

NIMRA KHAN

HRM

11

RADHIKA R.

HRM

12

HERA WALI

HRM

13

CHITRA GAUTAM

IT&S

14

ANUJ S.S MISHRA

IT&S

15

BARSHA GHOSH

MKT

16

THEJAS C. NAIR

MKT

17

THOMAS DOMINIC

MKT

18

ASHISH JAKHAR

OM

19

AYUSHI SINGH

OM

20

KATHI SIDDARTHA

OM

21

ASHISH KUMAR

OM

22

NIDHI AINAVOLU

SM

23

SATISH KUMAR

SM

24

MANOJ KUMAR SHUKLA

DS

25

SHRUTI TANDON

IT&S

3rd YEAR
Sl. No.
Doctoral Scholar's Name
Area

1

ASHISH JHA

ABM

2

LAVANYA

BE

3

NITIKA ARNEJA

BE

4

AKSHAY MISHRA

DS

5

NITIN SAHU

DS

6

RAMAKRUSHNA MISHRA

DS

7

RITIKA DADRA

F&A

8

ABHIPSA DASH BHATT

HRM

9

NISHTHA ARORA

HRM

10

AASHIMA GABA

HRM

11

SRISHTI BACHWANI

Marketing

12

CHANDAN KUMAR BEHERA

Marketing

13

ARPAN MONDAL

SM

14

SAGNIKA DATTA

SM

15

MANISH

HRM

16

ADITYA RAIZADA

SM

17

ANIRUDH SINGH

F&A

4th YEAR
Sl. No.
Doctoral Scholar's Name
Area

1

JEETU RANA

OM

2

PRAGATI PRIYA

BE

3

RAHUL KUMAR

BE

4

SHREYA MISHRA

BE

5

SONALI SINGH

BE

6

SARANSH TIWARI

DS

7

SAURABH RAWAL

DS

8

SHOUVIK BHATTACHARYYA

DS

9

YASHI SRIVASTAVA

DS

10

SHUMAILA FATIMA

F&A

11

SUKANYA WADHWA

F&A

12

ASHWANI KUMAR

HRM

13

MUSKAAN VIRDI

HRM

14

RAAVI MASTA

HRM

15

TALLURI SURENDRA BABU

HRM

16

HARSHIT MAURYA

IT&S

17

SWATI JAIN

IT&S

18

SATYAM MISHRA

Marketing

19

AJIT PRATAP SINGH

OM

20

SURYAPETA AKSHITHA

OM

21

RAVI ROSHAN

SM

22

SARTHAK AGARWAL

BE

23

NEERAJ KATEWA

BE

24

MADHUKAR PANDEY

Comm.

25

ARUSHI VERMA

F&A

26

ABHISHEK SONAVANE

HRM

27

ROHAN KUMAR SINHA

IT&S

28

ARIIT SENGUPTA

OM

29

KRITIKA SWAMINATHAN

OM

30

VIVEK KUMAR JHA

SM

5th YEAR
Sl. No.
Doctoral Scholar's Name
Area

1

MANEKA

ABM

2

SK ABU KHALEK

Marketing

3

TAMAL SAMANTA

Marketing

4

DIKSHA AGARWAL

Marketing

5

DEBANKUR SAHA

Marketing

6

MOHIT RAY

OM

7

RITIKA SAINI

OM

8

DEEPALI DHINGRA

SM

9

VIVEK N SHARMA

DS

10

JYOTI GARG

F&A

11

RIYA SINGLA

F&A

12

VIVEK MISHRA

HRM

13

AVANT KUMAR

IT&S

14

NISHANT GARG

HRM

15

LOVLESH NAGORI

Marketing

16

UTKARSH SHIVAM

OM

17

SHABNAM VIRDI

SM
Content will be available soon.
Indian Institute of Management
Prabandh Nagar, IIM Road, Lucknow-226013
Uttar Pradesh, India

CAMPUS EPABX: 0522-2734101, 2734111-20
0522 6696001

Fax : 2734005 (Dir. Off.), 2734025 (GEN.), 2734026 (MDP)
ISD CODE : 91
STD CODE : 522