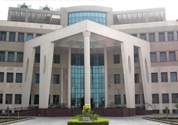 IIM Lucknow took the lead in establishing a satellite campus at Noida, suburb of New Delhi in the National Capital Region. The Noida campus has a full time dedicated pool of faculty having in-campus residence facilities for both faculty and the students. The campus has been developed as a centre of excellence in the area of executive education. It is the 'IIML way' of contributing to the industry and realizing its vision to remain at the forefront of management thinking and education.
The One-year Full Time Executive MBA (IPMX) International Programme in Management for Executives (IPMX) is a full time residential programme which provides cutting edge management lessons to equip the mid-career professionals with the latest tools and strategic management techniques. Other programmes at the campus include the Two-Year Post-Graduate Programme for Working Executives and the recently launched Executive Doctoral Programme and, the Post Graduate Programme in Sustainable Management which is a two-year full-time residential course that aims to produce quality managers with a thourough understanding of the various verticals of management and who would help build sustainable businesses.
Noida campus offers a unique locational advantage in terms of teaching, research, consulting and executive education. An architectural splendour equipped with state of the art teaching infrastructure, computer laboratories, and student lounges, life @ noidacampus is intellectually stimulating, vibrant and exciting.
Programs
Contact us
IPMX, Noida Campus -0120-6678507
Management Development Program, Noida Campus -0120-6678428, 0120-6678573
WMP, Noida Campus -0120-6678402
EFPM , Noida campus -0120-6678408
Guide Map