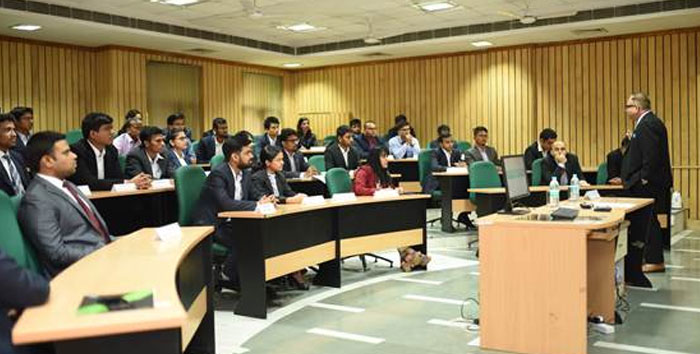 Post Graduate Programme in Sustainable Management stresses upon the philosophy that businesses are embedded in society and cannot be separated from it, and therefore aims to develop management professionals with a holistic perspective on economic, social and environmental issues. In addition to offering general management courses, PGPSM's curriculum stands out in management education by means of offering specialized courses on systems thinking, social entrepreneurship, externalities, lifecycle management, stakeholder management and public policy.
Objectives of the Programme
To build an understanding of contemporary challenges that businesses are facing in the 21st century, with emphasis on the environment
To build responsible leadership capabilities that are geared to respond to sustainability challenges
To impart appropriate skillsets to integrate principles of sustainability and responsible management practices in
To acquire knowledge and skills in key functional areas of businesses
To encourage entrepreneurial capabilities and develop a global perspective
To enable participants to become change agents in sustainable management
Why Sustainable Management
Businesses today are increasingly being driven by sustainability concerns. Results of surveys conducted by many leading consulting and media houses such as Forbes and Fortune indicate that no business can survive in future without incorporating sustainability principles and practices in its operations. However, this is easier said than done. Here in lies the role of Sustainable Management.
While in the past, 'sustainability' as a term was often associated and limited to environmental and social concerns, a hard realization has set-in in the recent years that businesses cannot separate themselves from society and environment. An unstable social and environmental ecology will inadvertently hurt the profit bottom line of business by making the conduct of business expensive. Hence, the only way to deal with the threat of negative environmental and sociological impact of business is to convert them into opportunities of improvements and excellence.
The PGPSM enables future managers to understand the ever evolving and interactive nature of these sustainability challenges and come up with integrated, holistic solutions.

Sustainability is an emerging field and IIM Lucknow is among the very few institutes in India, perhaps among very few in the world also, to have pioneered a Sustainable Management Programme. Needless to say, the continuously evolving knowledge in the field is more than matched by the continuous evolution of curriculum.
The programme is equipped with state of the art infrastructure in terms of audio-video enabled class rooms, extensive collection of books in the library and ready access to industries and corporate leaders.
Along with the rigorous routine of lectures, case discussions, exercises, seminars, role plays, management games ensure deeper understanding of theoretical concepts through application oriented participative learning. Team-based assignments, term papers, project work, presentation and computer-based learning methods help build an orientation towards working effectively in larger, and many a times, multi-cultural and multi-functional teams in the future workplace.
We believe that through our teaching we enable our students to acquire a unique position which may influence the very course of future. Special emphasis is laid on the development of socially and environmentally sensitive global citizens. Leadership Talks by industry leaders bring in the latest trends in sustainability and help establish a direct connect with the concepts taught in the classroom.
Academic Evaluation
The academic performance evaluation system is viewed as a means to promote learning process, and is designed to assess the ability of the student to apply knowledge for problem-solving and increasing organisational effectiveness. The evaluation is a continuous process based on assignments, quizzes, project work, seminar presentation, viva-voce, mid-term test and final examination.
A ten-point grading scale with corresponding letter grades is used as follows:
| | | | | | | | | | | | |
| --- | --- | --- | --- | --- | --- | --- | --- | --- | --- | --- | --- |
| Letter Grade | A+ | A | A- | B+ | B | B- | C+ | C | C- | D | F |
| Grade Point | 10 | 9 | 8 | 7 | 6 | 5 | 4 | 3 | 2 | 1 | 0 |
The Term Grade Point Average and Cumulative Grade Point Average are computed in each term as the credit-weighted averages of individual grades in and up to each term respectively. The academic criteria for continuation in the programme, promotion to Second Year, and award of diploma, are specified in the PGPSM Manual which lays down the policies and procedures governing the programme. The Manual is given to all students at the time of registration at the beginning of the academic session.
The curriculum of PGPSM is rigorous and includes specialized courses on sustainability from the first year itself, without missing out on the general management courses. In the second year, the students get exposure to sustainability in detail through well designed compulsory courses in Terms IV & V, and elective courses in Term VI
The courses offered in the two years are listed below:
First Year Course Structure
Term I
Term II
Term III
Managerial Economics
Communication for Sustainable Management
Environmental and Resource Economics
Principles of Sustainable Management
Macroeconomic Environment
Sustainability: Measurement, Certification and Reporting
Quantitative Analysis for Management I
Creativity and Innovations for Sustainable Management
Quantitative Analysis for Management II
Accounting for Sustainable Management
Financial Decision Making
Designing Work Organizations
Human Dimensions of Sustainability
Systems Thinking
Information Systems
Behavior in Organizations
Environmental Law and Policy
Consumer Behavior
 
Sustainable Marketing Concepts
Strategic Management
 
Operations Management
 
Second Year Course Structure
Term IV
Term V
Term VI
Climate change, Environment and Externalities Trading
Lifecycle Management
Three Elective courses
Research Methods for Sustainable Management
Social Entrepreneurship
Integrated Project
HRM for Sustainable and High Impact
Stakeholder Management and Corporate Social Responsibility
 
Sustainable Supply Chain Management
Environment and Social Risk Management: ESG and EHS
 
Integrated Project
Environment Finance and Sustainable/Impact Investment
 
 
Public Policy Processes and Institutions
 
 
Integrated Project
 
The second year has an integrated project for three terms (up to 9 months) as an integral part of the curriculum. With course work running in parallel, the students get a day off every week to work on live projects with industry. Periodic assessments by the faculty ensure that the students stay on track to meet project deliverables. The students get involved in projects in renewable energy, smart cities, resource optimization, green marketing, CSR portfolio management, etc. They are associated with leading organizations like Tata Sustainability Group, Soft Bank, NTPC, GIZ, ITC Infotech, Velluri Technology Accelerators, Vedanta and World Bank.
This unique aspect of the PGPSM curriculum has been well appreciated by recruiters. Firstly, the hands-on exposure gained through the integrated project gives the students a unique business orientation that goes beyond the confines of the class room. Secondly, recruiters often find the eight-week summer internship as too short an engagement to assign worthwhile projects and assess the suitability of a candidate.
Academic Calendar 2023-24 (1st Year)
Lucknow Campus

Preparatory course in Mathematics

Induction Module

Registration

June 13-23, 2023

June 26-27, 2023

June 28-29, 2023

(Tue-Fri)

(Mon-Tue)

(Wed-Thu)

Term-I

Classes Begin

Mid-Term Examinations

End-term Examination

Term Break

July 03, 2023

August 08-10, 2023

September 20-22, 2023

September 23-26, 2023

(Mon)

(Tue-Thu)

(Wed-Fri)

(Sat-Tue)

Term-II

Registration & Classes begin

Mid-Term Examinations

End Term Examinations

Term break

Sep 27, 2023

Nov 08-10, 2023

Dec 27-30, 2023

Dec 31, 2023 -Jan 03, 2024

(Wed)

(Wed-Fri)

(Wed-sat)

(Wed-Sun)

Term-III

Registration & Classes begin

Mid-Term Examinations

End Term Examinations

Jan 04, 2024

Feb 15-19, 2024

March 26-30, 2024

(Tue)

(Tue-Mon)

(Thu-Sat)
Academic Calendar 2023-24 (2nd Year)
Term-IV

Registration & Classes begin

Mid-Term Examinations

End Term Examinations

June 12, 2023

July 18-19, 2023

Aug 24-25, 2023

(Mon)

(Tue-Wed)

(Thu-Fri)

Term-V

Registration & Classes begin

Mid-Term Examinations

End Term Examinations

Term break

Aug 31, 2023

Oct 09-11, 2023

Nov 23-25, 2023

Nov 26-29, 2023

(Thu)

(Mon-Wed)

(Thu-Sat)

(Sun-Wed)

Term-VI

Registration & Classes begin

End Term Examinations

International Immersion

Convocation*

Nov 30, 2023

Feb 23–24, 2024

Jan 08-19, 2024

March 16, 2024

(Thu)

(Fri-Sat)

(Mon-Fri)

(Sat)
Present corporate scenario mandates a 'Glocal' perspective which includes an in depth understanding of localized risks and challenges as well as a unified global strategy to strive towards holistic development. At IIM Lucknow we are committed to developing and implementing educational programmes and research projects that would enhance the understanding of global issues. IIM Lucknow has been promoting interaction with the rest of the world by designing, developing and implementing international programmes with partner business schools globally. Our students and faculty regularly participate in global interaction forums like conferences, symposium, conclaves and exchange programmes.
The international immersion module of PGPSM sensitizes the participants towards the best practices and robust administrative structures which exist in many countries in Europe, specially Scandinavia.
A two week compulsory sojourn in world renowned institutions like Copenhagen Business School Linnaeus University and Aalborgh University is aimed at enriching the experience of a meaningful immersion. The rigorous academic schedule is highly complemented with a conscious and deliberate industry interaction. Experts from organizations like IKEA, Dong Energy and Rockwool, which have set high benchmarks for sustainability in their respective sectors, interact closely with the students and share varied perspectives. Students also actively engage with local municipal bodies and citizen groups who are often instrumental in bringing about behavioural changes in society towards sustainable living. The program also creates a platform for cultural exchange among participants and the local community.
| Sr No. | Subject | Download |
| --- | --- | --- |
| 1. | Fee Structure-PGPSM-1 & II for Academic Year 2023-2025 | Click here to View |
Final Placements (2015-17 Batch)
Indian Institute of Management-Lucknow is pleased to release the data related to final placement of the first batch of Post Graduate Programme in Sustainable Management (PGPSM). PGPSM was inaugurated in 2015 and the first batch comprised of 19 students with an average work experience of 4.5 years. The final placement witnessed the participation of organizations from diverse sectors involved in sustainability related work such as consulting, energy, urban transport, apparel, financial services, and social sector.
One student opted out of the placement process to pursue higher education. Overall 16 students have received job offers from organizations in consulting (EY, KPMG, PwC), energy (Energy Efficiency Services Limited, Mytrah Enegry, Vikram Solar), financial services (Tres Vista), and social sector (Tata Strive, Tata Trust). Other companies which participated in the placement process include Accenture, Cargill Foods, Lavaasa, McKinsey & Co., Solaron, Treeni, and UMTC. Maximum offers were made by the consulting firms (50%), followed by energy (25%),
social sector (19%), and financial services (6%). Roles on offer included senior consultants, business development, business strategy etc. Two students are in touch with organizations to arrive at a final decision.
IIM Lucknow is the first IIM and one of select management institutes in India to offer a full time residential programme in the field of sustainability. The heartening response from the industry establishes IIM Lucknow as the preferred recruitment partner for sustainability related roles in India and reaffirms the trust organizations have shown in IIM Lucknow over the years.
Prof Sourindra Bhattacharjee, Chairperson of PGPSM Placements said "We are glad to that we were able to build on the foundations of successful summer placements of the first two batches of PGPSM. The institute provided a platform for the students to explore career in diverse sectors related to sustainability and the response from the industry was an indicator of the student quality, academic rigour, and values of IIM Lucknow".
Summer Placements (2016-18 Batch)
Summer internships have been offered to the students by a wide range of companies from various sectors. Mahindra, Tata Sustainability Group, Wipro, Cairn Energy, PwC, KPMG, Azim Premji Foundation, Wipro Earthian-CSTEP, BIOME, Valluri Technology Accelerators, Sweep Enviro, UPL and Biocon are some of the companies that have recruited interns in varied roles in sustainability. Across the batches, roles offered have been in the domain of smart city consulting, sustainability reporting, rural development, social and community inclusion, renewable energy solutions, corporate social responsibility, environment, waste management, carbon neutrality and pricing.