Event Library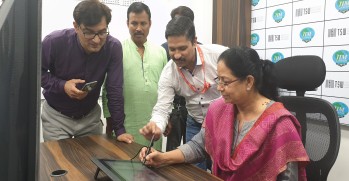 Online Studio at Manthan for Blended Learning.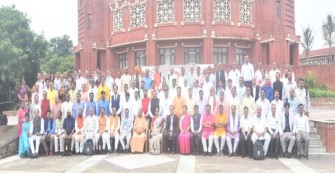 Leadership Development Workshop conducted at IIM Lucknow for MInister's of UP State Govt.
Thought
"Opportunities don't happen. You create them."
Participant Profile
Participants are experienced middle and senior level executives representing a wide-range of industries and backgrounds, creating dynamic peer culture for learning and sharing.
Participant Designation

Business Head
Project Manager
Sales Manager
IT Manager
Audit Heads
Finance Manager
Manager-Mid/Senior
VP/Director
Participant Industry

Education
IT & Telecom
Sales & Marketing
Banking
Construction
Logistics
Agriculture
Finance
Govt/PSU's
Healthcare
Education

CA
MBA/BBA
BE/BTech/BSc
MCom/BCom
Graduation
Post-Graduation
Testimonials
An excellent course from IIM Lucknow for executives. It has helped me gain knowledge in the general management aspects. A well-blended course to understand macro-economic, socio-political and develop analytical, management skills. The One-year course is well spaced out with 36 days of campus learning.Very interactive sessions from the professors who are always approachable.Real time case studies with great learning methodologies by the professor's made this course even more interesting.

Michael P, GMPE, Founder/ Director – Maven Technologies


The General Management programme for Executives (GMPE)-17th Batch (2018- 19) of IIM, Lucknow combines an ideal mix of courses aimed at upgrading conceptual skills in general management education. I would like to mention unique feature about this programme is the participants centred pedagogy, the experienced and enthusiastic faculty which helped us to explore the issues and concepts through case studies, simulation games and group projects. It provides an opportunity to dip into the ocean of knowledge. The days at Campus I spent with other executives was extremely valuable. The diversity of executives from different industries led to a lot of sharing of knowledge and perspectives, which I found really enriching. I profusely thank all my faculties at IIM-Lucknow for making the journey of learning so memorable.

Dr. Nirav Patel, General Manager, Animal Breeding Centre, Salon (Managedby NDDB Dairy Services, New Delhi)


The MDP, IIM-L's program (CPBAE) helped me explore the new dimension of analytics. The on-campus module were sufficiently backed by the online modules from Kelly School of Business at Indiana University taken by highly expert and experienced professors from both the universities. Moreover, the SAS tool hands-on session added feathers to my learning stint at IIM-L. The course is evenly spaced between business, computing and problem solving modules. I would like to thank the program coordinators for designing a comprehensive program serving the needs of the industry 4.0. The 3 brands (IIM-Lucknow, Kelly School of business-Indiana University and SAS) equipped me and projected a strong resume, thereby, helping me transcend to the domain of business analytics.

Mr. Vinamra Mathur


Machine learning Engineer,Scania Group

Good opportunity for networking across diverse industries and a memorable experience.

Dr. NanditaVerma, Director, College of Management Studies


Programme-Strategic Thinking & Leadership

Excellent program, most of us have technical skills that as we go up the corporate ladder, we need leadership skills and this program provide us with it. The strength was the diversity of the participants both in terms of their experience and companies and backgrounds. The program open up new perspectives and is an enduring experience.

Dr. Sunil Kumar, GM NABARD


Inspired Leadership

GMPE 17 was a great learning experience. The course is meticulously designed to give a glimpse of all the important aspects of general management. It's an ideal fit for anyone who's looking to gain an edge in their career advancements. The class is a healthy mix of professionals from different kinds of industries opening doors for great peer-to-peer learning and this topped up with great guidance from faculty. We are grateful to IIM Lucknow designing a course that perfectly caters to upskilling needs of every professional.

Ms. Udisha Misra, Account Manager


Digital Marketing, Genesis BCW

I recently got an opportunity to study at IIM Lucknow as part of our Mid-Career Training ,and it was nothing short of a dream. The experienced faculty, comprehensive course content and the varied facilities ensured that I had an enriching experience that added to my knowledge repertoire and equipped me for more challenging future leadership roles.

Ashok Kumar P Kothari, Additional Commissioner


Indian Revenue Services, Customs and GST